ON-PREMISE TASTING ROOM SALES + TO-GO + CURBSIDE PICKUP 
We are open for on-premise tasting room sales at all 3 Strangeways Brewing locations, operating in accordance with federal, state and local guidelines, and under the Virginia Craft Brewers Guild Pledge for safety.
All 3 locations have air-conditioned, indoor seating, as well as outdoor seating in our expansive Biergartens. Large, 800 square foot event tents with outdoor fans and night illumination are located at both RVA SA and FXBG, offering protection from the rain and sun. All socially distanced.
Open Daily:  
RVA:  M-TH 2-8P • FR-SA Noon-9P • SU Noon-6P
RVA SA: 
M-TH 2-9P • FR Noon-10P • SA Noon-11P • SU Noon-8P
FXBG:  M-TH 2-8P • FR Noon-10P • SA Noon-11P • SU Noon-8P
For Curbside Pick-up : Call and pay over the phone with your credit card
3 Locations to Serve You:
RVA Dabney Road (804) 303-4336
RVA Scott's Addition (804) 358-2049
Fredericksburg (540) 371-1776
Current Specials include Steal the Vessel + Steal the Glass:
1. All 64oz Growler glass, 32oz Grunt glass, and Crowler cans are FREE with purchase of fill (no limit)
Products Available:
16oz 4-Packs of Cans
Fresh Draft Beer filled in 32oz Crowlers or Grunts and 64oz Growlers
6-Packs of Bottles
Large Format Bottles
Gift Cards
Merch
Snack Foods/Soft Beverages
AFM Club Memberships
"Pay It Forward" Beers
See below for a list of beers we have in stock (subject to change)
Note:
• Since only brand new Growlers, Grunts and Crowlers can be filled per regulations, we are offering all of these vessels new and FREE of charge to all of our patrons with purchase of fill
• Indoor restrooms will be provided, and deep cleaned at regular intervals
Our focus is and will always be on the safety of our staff and guests. With that, a simple reminder is to please be kind to each other! While we are all going through this together, everyone's experience is unique. As we re-open the Biergarten for on-site service, please remember to be patient with your neighbors and with our new set-up. We appreciate feedback and simply ask that you keep the regulations in mind to allow for the best possible experience for everyone. Thank you!
___________________________________________________________________________________
___________________________________________________________________________________
Virginia Craft beer for the intrepid palate.
In search of craft beer out of the ordinary? So are we. That's why we spend our days toiling away, creating exquisitely peculiar concoctions to satisfy the most curious of cravings, persnickety of palates and inquisitive of individuals. That said, we strongly encourage you to do two things: Think Strange. Drink Strange.

RateBeer → 4 Years Running Strangeways named "Best Brewery Taproom in Virginia"
Southern Living →  Strangeways named one of "South's Best Breweries for the 2nd year"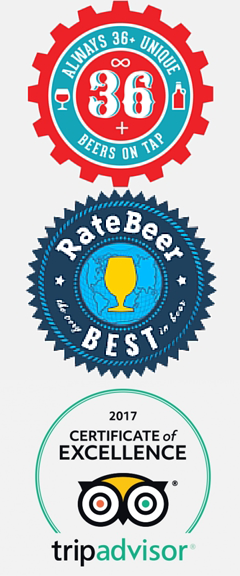 RVA Tasting Room Taps
Nucleus

Core Year-Round Beers

Migration

Seasonals, change frequently

Gose with Raspberry and Lactose

New England IPA with Lactose

Woodsman

Barrel-Aged Beers

Sours & Wilds

Mouth-Puckering Ales & Funky Libations

Annihilation

Bold & Venturesome Concoctions

Curiosities

Uniquely Infused Small Batches

Cranberry Berliner Weisse

Raspberry Berliner Weisse

Marshmallow Berliner Weisse

Rarities

Lab Release Only
FXBG Tasting Room Taps
Nucleus

Core Year-Round Beers

Migration

Seasonals, change frequently

Double Dry Hopped New England DIPA

Gose with Raspberry and Lactose

New England IPA with Lactose

Woodsman

Barrel-Aged Beers

Sours & Wilds

Mouth-Puckering Ales & Funky Libations

Annihilation

Bold & Venturesome Concoctions

Curiosities

Uniquely Infused Small Batches

Cranberry Berliner Weisse

Raspberry Berliner Weisse

Marshmallow Berliner Weisse

Rarities

Lab Release Only